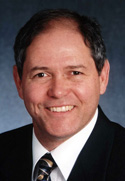 Dr. Gregory Reinhardt, professor and chair of UIndy's Department of Anthropology, is the subject of an interview at Heritage Key, a website devoted to archeological sites and museums of the ancient world.
The article explores Reinhardt's research in Alaska and other Arctic areas, where since 1979 he has excavated and studied the remnants of the prehistoric Koniag and Alutiiq cultures. He and a co-author detailed the findings in a book, Eskimo Architecture, that was named among the "Best of the Best from the University Presses" in 2004.
Speaking with writer Malcolm Jack, Dr. Reinhardt describes his groundbreaking work in the 1980s near Barrow, Alaska, where an entire prehistoric family was buried in a collapsed home, offering a unique look into a centuries-old way of life. He also discusses the physical, logistical and financial challenges of performing archeological work north of the Arctic Circle.