Dean appointed for School of Business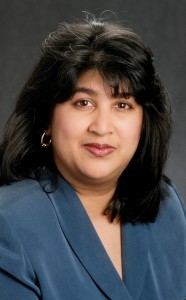 The new business dean at the University of Indianapolis plans to build on a history of networking with the business community – locally and internationally – to create opportunities for students.
 
Sheela N. Yadav was named to lead UIndy's School of Business, effective Dec. 1.
 
A specialist in supply chain and engineering management, she joined UIndy in 2005 as an associate professor and later was appointed director of undergraduate business programs. She has served as interim dean since July 2008.
 
Yadav has been a key player in aligning university programs with career opportunities and workforce demands in supply chain management and other fields that show particular promise for the Midwest. She expects to build upon the business school's track record of collaborating with the regional business community to establish internships and other hands-on experiences for students.
 
"UIndy is uniquely positioned to give business graduates a head start on the job market," Yadav said. "We're located in a major metropolitan area that's becoming a logistics hub for the entire nation, yet we're small and flexible enough to respond to changes in the marketplace and give our students the guidance they deserve."
 
Yadav's other goals as dean include adding to the business school's international presence. An ongoing joint-degree program with China's Ningbo Institute of Technology sends UIndy faculty overseas and brings more than 100 Chinese students to the Indianapolis campus each year. The MBA program's International Business concentration requires visits to corporate and cultural sites in other countries.
 
"The phrase 'global marketplace' has become a cliché, but undoubtedly that is where the opportunities lie for our students," she said. "Our international exchanges build cultural bridges and professional connections, and they create a richer learning environment that can't be achieved any other way."
 
Yadav holds a Ph.D. in engineering management from the University of Missouri, where she also earned bachelor's and master's degrees. She taught previously at the Indiana Institute of Technology and the University of Wisconsin and has served on the board of directors for the Central Indiana Chapter of APICS – the Association for Operations Management.
 
She lives in Indianapolis with her husband and two sons.