Music grad on the rise in Cincinnati jazz scene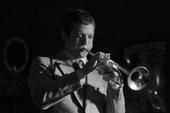 A recent UIndy graduate is making a name for himself on the Cincinnati music scene.
Wade Baker's work as a jazz trumpeter earned him a Cincinnati Entertainment Awards nomination this year and a feature story in this week's CityBeat newspaper. In the story, he recalls how he was mentored by the professional musicians who teach in UIndy's Jazz Studies program.
"When I started showing interest, my teachers were hands-on," says Baker, who graduated cum laude in 2006 with a bachelor's degree in music and a concentration in jazz. "They'd take me to their gigs and I'd get to watch the best players in town."
Now, the story notes, the Jasper native leads a rotating cast of Cincy-area jazz luminaries in the Wade Baker Jazz Collaboration. He also plays regularly with the Blue Birds Big Band, has toured with hip hop/jam band Eclipse and even plays bass for blues artist Jon Justice, among other gigs.