City begins work on Hanna Avenue renovation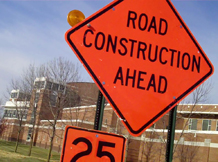 Years in the planning, the renovation of Hanna Avenue as it passes through the UIndy campus is well under way.
The city project includes widening the roadway between U.S. 31/East Street and Carson Avenue and installing a landscaped median. The university itself is investing about $2 million in conjunction with the road work, primarily for landscaping and rerouting of power lines between Shelby Street and State Avenue. (see map)
Physical Plant Director Ken Piepenbrink says the main contractor is aware of major campus events and is trying to minimize disruptions for the university and surrounding neighborhood during the extensive project, scheduled for completion in the spring of 2011. The city's intent is that most of the work immediately adjacent to campus will be performed in the summer months, and crosswalks and entrances will remain open as much as possible.
Currently, traffic is shifted to one lane in each direction at the Bowman, Mathews and Asbury intersections, and those three side streets are subject to intermittent closing. This configuration will continue until early February, when all traffic will be shifted to the south two lanes of Hanna. Crews will work eastward from U.S. 31 to Carson on the north lanes of Hanna, then westward from Carson to 31 on the south lanes.