Women's basketball team remains undefeated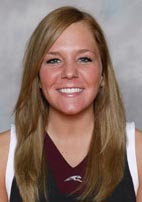 The University of Indianapolis women's basketball squad, ranked No. 4 nationally in the latest USA Today/ESPN Division II poll, raised its record to 9-0 last week with a win over previously undefeated Lynn University of Florida.
The start is one of the program's best ever, second only to the 11-0 mark set in 2007-08 during head coach LeAnn Freeland's inaugural year at UIndy. Hopes were already high this season for a team that lost just one player to graduation after last year's Sweet 16 appearance. In a preseason poll, Great Lakes Valley Conference coaches picked the team to win the conference's East Division.
But that might not be enough for the Greyhounds, says senior point guard Katie Dewey (pictured), who was named GLVC Player of the Week today.
"Our team is very determined," Dewey told the Indianapolis Star for a recent story. "We got just a small taste of success and now we're hungry for more."