Event features Sen. Lugar, UIndy's Miss America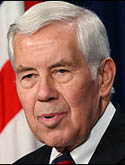 Two of the UIndy community's most famous figures will be on campus Saturday for the 34th annual Richard G. Lugar Symposium for Tomorrow's Leaders.
One of them, of course, is Indiana's senior senator, who will address the 400-plus high school juniors in attendance with his usual wide-ranging, up-to-the-minute take on local, national and international issues. Sen. Lugar is a former instructor and trustee of the University of Indianapolis.
The other is Katie Stam, who was a senior communication major at UIndy when she landed the coveted crown of Miss America 2009. Stam will assist in presenting Sen. Lugar's Congressional Awards to select Indiana youth, and she also will speak about service and leadership to the assembled teens immediately after the symposium's opening program.
After the morning program, the visiting students enjoy lunch and photos with the senator before an afternoon of small-group sessions with expert-led discussions on key issues facing the world today.
More information on the symposium and UIndy's Richard G. Lugar Center for Tomorrow's Leaders is here.