Off to the Big Apple, with images of Indy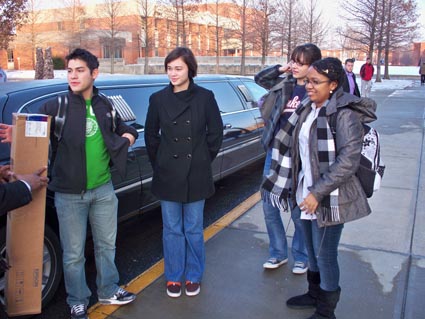 UIndy students Kevin Moran de la O (left), Brittany Teipen, Kyle Ginder and Whitly Charles are representing the university's Honors College and the city of Indianapolis this weekend at the opening of a national student photography exhibition in New York City.
Four students from UIndy's Honors College are off to Manhattan today to represent Indianapolis in a unique, nation-spanning photography project.
Macaulay Honors College, part of the City University of New York, is hosting this weekend's Snapshot 2010, which also includes entries from the University of Nevada, Reno, and Finger Lakes Community College in upstate New York.
For the annual project, Macaulay asks each of its freshmen to submit a photo of his or her neighborhood – taken on an arbitrary date, Oct. 11 – to create a sort of collage-portrait of the city. Other honors colleges are invited to join in, and the results are assembled by the students into a gallery exhibition with a celebratory opening reception.
Earlier this fall, with guidance from art photographer and Associate Professor Donna Adams, the 15 UIndy participants grabbed their cameras and hit the streets. They decided to riff on Indianapolis' "Crossroads of America" slogan, or as they put it: "Our project intends to fuse the cultural districts and landmarks of Indianapolis with the idea of standing at a crossroad; ultimately, we want to create a narrative that captures the essence of Indy, while at the same time, relays a parallel that resonates to our own idea of having more than one direction in life."
The group conducted an internal contest to select photos for the exhibition, and they also made promotional posters, postcards and a video slideshow of the images. Four members – Whitly Charles, Kyle Ginder, Kevin Moran de la O and Brittany Teipen – were tapped to make the whirlwind trip to New York with Kyoko Amano, associate professor of English and associate director of the UIndy Honors College. They'll return Sunday night, just in time for Finals Week.
The University of Indianapolis Honors College, chaired by Associate Professor of Education Greta Pennell, is an advanced studies program for highly motivated students, designed to foster excellence in academics, creative expression, leadership and service. More information is here.
See images and learn more about the exhibition here.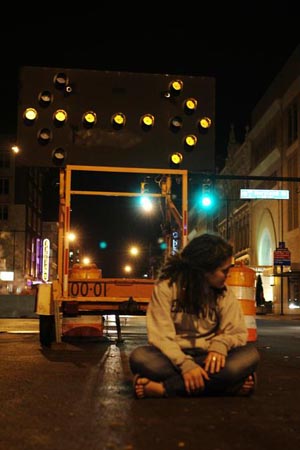 Anna Elzer's "Under Construction" (right) and Kevin Moran's "Different Directions" (below) are just two of the UIndy images chosen for exhibit in Snapshot 2010, a national student photography show opening this weekend in New York City.