Lugar calls for cooperation, meets Miss America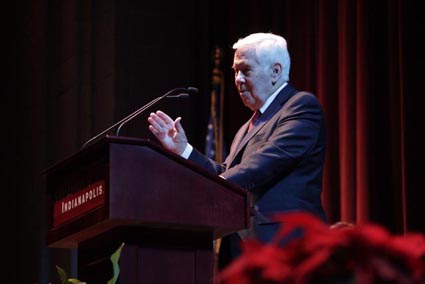 A bipartisan effort to revive the U.S. economy would go a long way toward strengthening America's standing in the world, Sen. Richard Lugar told a crowd of 400 high school juniors Saturday at UIndy's annual Richard G. Lugar Symposium for Tomorrow's Leaders.
"Who's in charge?" was a recurring theme of the senator's keynote speech, which explored the uncertain power balance of the post-Cold War world. Praising the tax cut compromise now before Congress, Lugar said partisan gridlock in Washington discourages America's supporters and encourages its rivals at a crucial time in human history.
"Some would say the Chinese have prospered because they have a very tough, authoritarian government that repressed dissent, that reallocated resources in ways that were productive as the government saw it," he said. "We are on the threshold of coming back, of moving toward a program which is positive … That would be a great lift to all the rest of the world that wants to believe in democracy, that wants to believe in freedom of speech and freedom of religion and all the things that we espouse. If we are going to champion these ideas, there's got to be a product here that looks more satisfying to the rest of the world than the way we might now be perceived by many."
The 34th annual symposium, coordinated with the senator's office by UIndy's Richard G. Lugar Center for Tomorrow's Leaders, also featured 2009 Miss America Katie Stam, in her first official visit to campus since a March 2009 reception. Stam shared the stage with the senator and Lugar Center Director Lara Mann, assisting in the presentation of awards and later addressing the assembled students with a message about leadership and service.
Since her reign ended in January, Stam has launched a career as a public speaker and representative for charity organizations. Although her selection as Miss America pre-empted the final semester of her college career at UIndy, she is making arrangements with the university to complete her credits and receive a bachelor's degree in communication.
Above, Miss America 2009 Katie Stam addresses attendees at Saturday's Richard G. Lugar Symposium for Tomorrow's Leaders. Below, Mark Weigand, UIndy's vice president for student affairs and enrollment management, chats with Stam and Lugar before the symposium.