Stage is set for athletics center dome inflation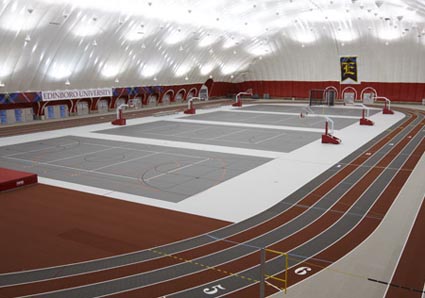 The domed area of UIndy's new Athletics & Recreation Center will be similar in size and purpose to this facility at Pennsylvania's Edinboro University, constructed by the same firm, Arizon Companies of St. Louis, Mo.
Campus activity is winding down as the University of Indianapolis community heads into the holiday break, but continuing construction work means faculty and students should see significant changes when classes resume Jan. 17.
The most prominent feature of the university's new Athletics & Recreation Center, a large air-supported dome, is scheduled for inflation the first or second week of January. Covering more than 90,000 square feet, the dome's interior features will include an NCAA-compliant six-lane track surrounding multipurpose space large enough for three basketball courts and more.
To non-UIndy folks, of course, the ARC is best known for the temporary role it will play one year from now: Official NFC practice site for Super Bowl 2012. For approximately two months beginning in December 2011, as the world's eyes turn to Indianapolis, artificial turf will be installed to create a full-size football field.
Until then, however, the dome and its attached office and locker room building will serve their original purpose. In combination with UIndy's existing Ruth Lilly Fitness Center, the ARC will essentially double the campus's indoor space for varsity and intramural sports and other fitness activities. Plans are being made for celebrations and tours of the new center, which is tentatively scheduled to open for use in February.
Meanwhile, the city and state continue their extensive reconstruction of Hanna Avenue as it runs through the UIndy campus. The work is nearly complete on the northern lanes of the roadway, bringing hope for smoother driving and a cleaner environment after the roadwork shifts to the southern half sometime in January. The full project is scheduled for completion in November 2011.
In other construction news, UIndy is moving forward with plans for a seventh residence hall, to be located between Warren and Cravens halls along the south side of Hanna. Student input will be sought in designing the building, which is scheduled to open for the fall of 2012. The current parking lots between Warren and Cravens will be replaced by new lots to the east.