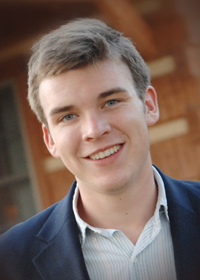 Eugene Mumford of Griffin, Ind., is the recipient of the 2010 Richard G. Lugar Distinguished Student Leadership Award, presented annually to an Indiana high school senior by the Lugar Center for Tomorrow's Leaders at the University of Indianapolis.
Senator Lugar is scheduled to present the award Saturday, Dec. 11, during his annual Lugar Symposium for Tomorrow's Leaders at UIndy.
Mumford, an International Baccalaureate candidate at Signature School in Evansville, was among the approximately 400 top high school juniors statewide who attended last year's symposium and were invited to apply for the award, which comes with a $500 cash prize. The recipient must have a minimum 3.0 cumulative GPA and demonstrate leadership skill and a commitment to serving others.