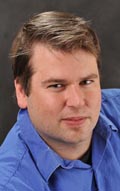 The death of North Korean dictator Kim Jong Il has prompted speculation around the world, as well as a call seeking perspective from Dr. Douglas Woodwell, associate professor of International Relations at UIndy.
Speaking Monday on WIBC-FM, Woodwell said a leadership change in the isolated nuclear nation could be a positive development, but many unknowns remain.
"Certainly it's an opportunity to move away from the status quo, but of course, there are a lot of fears associated with it as well," said Woodwell, who writes about global and domestic issues on his blog, woodwellontheworld.net.
Read or hear a brief clip of the radio discussion here.
UIndy offers bachelor's and master's degree in International Relations. Learn more here.