Pre-OT major up for national service award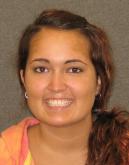 UIndy student Danielle Winkler is among 50 semifinalists nationwide for a community service award that includes a $5,000 scholarship.
The Students In Service Awards, presented by Washington Campus Compact and the technology company Inspireum, recognize outstanding college students whose volunteer service positively impacts society and inspires others to serve.
Winkler, a junior majoring in psychology/pre-occupational therapy, is nominated for her work at the low-income Laurelwood Apartments near campus, where she leads other UIndy student volunteers in mentoring children at risk.
Though the winner and runner-up in each of three categories is chosen by a panel of judges, a "fan favorite" selected purely by online voting also can land a $2,500 prize. And each winning student's university will receive a $2,500 grant to support service-learning.
To vote for Danielle and learn more about her project, click here. Voting ends March 3.
Read the awards announcement here.