Historic meeting of mayors delivers wisdom, wit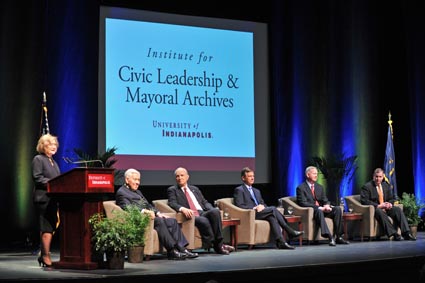 At the start of Friday's event, UIndy President Beverley Pitts announces the establishment of the Institute for Civic Leadership & Mayoral Archives, a new focal point for research and events at the university.
A crowd at Ransburg Auditorium experienced an unforgettable Friday night when the five most recent occupants of the Indianapolis Mayor's Office gathered for a discussion of the city's past and future.
U.S. Sen. Richard G. Lugar, William H. Hudnut, Stephen Goldsmith, Bart Peterson and current Mayor Greg Ballard regaled the audience with jokes, anecdotes and surprisingly candid assessments of the community's successes and challenges during the two-hour event billed as Five Mayors: An Evening of Insight and Vision.
The men seemed to reach a consensus on several issues, most agreeing that:
The mayor should have more input and responsibility in the operation of public schools.
The city's increasing ethnic diversity should be encouraged and celebrated.
The passage of Arizona-style immigration laws in Indiana would have a detrimental effect on economic and cultural development.
The community needs better mass transit, but paying for it will be difficult.
As a final question from the Indianapolis Star moderators, the guests of honor were asked to offer advice to future mayors.
"I think they should listen to our conversation this evening," Lugar said.
To which Hudnut added: "Plow the darn snow!"
UIndy President Beverley Pitts opened the night by announcing the formation of an Institute for Civic Leadership & Mayoral Archives at the university, to be built upon UIndy's collection of official papers and other items from the Lugar, Hudnut, Goldsmith and Peterson administrations – an era of great progress for the city. The institute will be a hub for research and events related to urban planning and community development.
The Star, which co-sponsored the event with UIndy and the Greater Indianapolis Chamber of Commerce, offers its written account, a photo gallery and an archived webcast of the discussion here.
Local political observer Brian Howey has a column about the event on his Howey Politics blog.