UIndy President Beverley Pitts to retire in June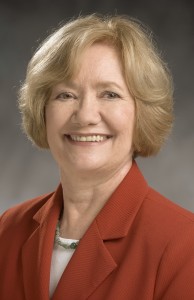 NEWS COVERAGE:
The Indianapolis Star
WIBC-FM
Inside Indiana Business
Indiana Public Media
University of Indianapolis President Beverley Pitts announced today that she will retire at the end of the 2011-12 academic year, ending seven years at the helm of Indiana's third-largest private college.
Pitts informed the university's Board of Trustees of her decision Saturday. This morning, she sent email messages to faculty, staff and students, calling her tenure at UIndy "one of the most rewarding experiences of my life," but saying, "The timing is right for new leadership." She looks forward to devoting more time to travel and writing.
The university recently wrapped up a successful six-year strategic plan that expanded experiences, programs and facilities for students while extending UIndy's impact in the community, noted Board Chair Robert Wingerter.
"Dr. Pitts has done an outstanding job," he said. "She has joined a line of strong presidents who have moved the university forward in academic standing and reputation."
As UIndy's eighth president, Pitts has emphasized managed growth in enrollment and a focus on retention through more robust first-year experiences and early intervention strategies. The current enrollment at the main campus is more than 5,300.
To enhance the residential experience for students, the university has expanded Schwitzer Student Center, erected an athletics and recreation facility, and opened a new residence hall. Ground will be broken this fall on a seventh residence hall.
Pitts has implemented promotion and tenure incentives and elevated faculty salaries. Building on groundwork laid by her predecessors, she has extended linkages between the university and the city, and maintained the university's physical presence in historic Fountain Square. Her decision to adopt "UIndy" as the university's official nickname, discarding "U of I," reinforced the institution's connection and commitment to its hometown while setting it apart from other schools with similar initials.
The university is partnering with the Indianapolis 2012 Super Bowl Host Committee to provide a pregame practice site for the National Football Conference championship team next year, and recently announced a $7.5 million campaign to establish an Institute for Civic Leadership & Mayoral Archives, building on the papers and documents of four former Indianapolis mayors that are in the university's possession.
On an international scale, the university just announced a second partnership in China. And, in its own neighborhood, UIndy funded landscaping enhancements for the city's Hanna Avenue reconstruction, cofounded the Gateway Community Alliance, and recently established a Homestead Program to provide $5,000 incentives for employees to purchase homes in the areas surrounding campus.
"Dr. Pitts truly has taken this institution to a new level, and the board hopes to find a ninth president who will be able to build on that momentum," Wingerter said. A national search will begin immediately.
Before joining UIndy in 2005, Pitts was provost and vice president for academic affairs at Ball State University, where she also served as acting president.