Lugar urges young leaders to make their mark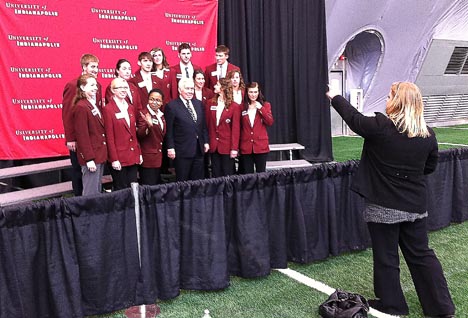 U.S. Sen. Richard Lugar poses for a photo with UIndy presidential assistants during Saturday's Lugar Symposium for Tomorrow's Leaders.
The "Arab Spring" democracy movement in the Middle East is an example of how young people are driving new political trends across the globe, Sen. Richard Lugar said Saturday at UIndy.
"It is a spirit that has infected the world," Indiana's senior senator said during his keynote address to hundreds of high school juniors during the 35th annual Lugar Symposium for Tomorrow's Leaders. "It's a new day in terms of heightening possibilities."
Taking questions from the assembled students for 40 minutes, Lugar was asked to pick his favorite economist.
"Economic advisers are plentiful in Washington," he said, drawing a chuckle from the crowd. He noted that anyone trying to predict economic trends seems to have "a 50/50 average at best."
The annual symposium is presented by UIndy's Richard G. Lugar Center for Tomorrow's Leaders.