Alumna earns promotion in governor's office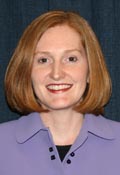 Anita Kolkmeier Samuel, a member of the UIndy Alumni Association's Board of Directors, has been named general counsel for Indiana Gov. Mitch Daniels.
Samuel has been the assistant general counsel specializing in state personnel matters since 2005, according to the announcement from the governor's office. She also serves as policy director for five state agencies: State Personnel Department, State Library, Commission on Public Records, Commission for Women and Office of the Public Access Counselor.
Before obtaining her law degree from Indiana University, Samuel earned her bachelor's degree in political science from UIndy in 1998.
Read the full announcement here.