PT prof considers students' learning styles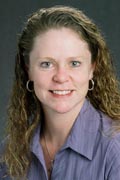 Dr. Stacie Fruth, associate professor in the Krannert School of Physical Therapy, is a key source for a recent story in Today in PT magazine.
The story addresses the various learning styles that PT students and even instructors bring to the classroom. Fruth, the 2009 UIndy Teacher of the Year, conducts assessments of the first-year doctoral students to see how they process new information, and she also talks with them about the styles of teaching they will encounter in the program.
"It helps them understand themselves [and] their classmates," Fruth told the magazine. "And it helps them understand faculty better."
Read the full story here.