In the news: UIndy digital marketing manager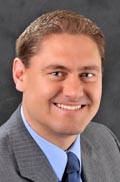 UIndy staffer Jason Nye was featured Sunday in the Indianapolis Star's "Rising Star" column, which profiles young professionals who are making their mark in central Indiana business.
Among other accomplishments since joining the university in 2009 as its first digital marketing manager, Nye has launched UIndy's official Facebook and YouTube channels; developed the Facebook-like New Hounds online community for incoming students; designed web advertising and targeted email communications; and played a key role in revamping the university's public website, which promptly won a national award.
In the column's Q&A, Nye discusses how his earlier career experiences helped him develop the skills he now brings to his work in UIndy's Office of Communications & Marketing. The full Star column can be read here.