New dorm features solar water heating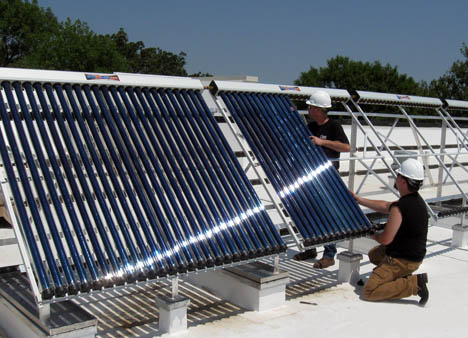 On Thursday, a crew from Solar America Solutions was atop Roberts Hall, installing an array of glass and metal tubing that will turn ultraviolet sunlight into heat for the building's domestic water supply.
UIndy's newest residence hall will heat its showers, restrooms and laundry facilities with cutting-edge solar technology expected to produce huge energy and cost savings.
The equipment installed at Roberts Hall this week by Carmel-based Solar America Solutions is a new kind of solar energy technology. Rather than using old-school photovoltaic cells to turn visible light into electricity, it uses large glass-metal vacuum tubes to generate heat directly from the sun's ultraviolet rays, which are powerful even on cloudy days.
According to the vendor, the process is 98 percent efficient and can reduce energy costs by 40 percent or more in comparison to gas-fired hot water. UIndy is serving as a test site to help the company improve its technology, and the university may be able to retrofit other buildings on campus with similiar systems, Physical Plant Director Ken Piepenbrink said.
Roberts Hall will open later this month as the home of 170 upperclassmen, with features including single- and double-occupant rooms, semi-private bathrooms and a fitness center. The structure is named for the university's first president, the Rev. John Taylor Roberts, who served from 1905 to 1908.