Graffiti show to open UIndy gallery season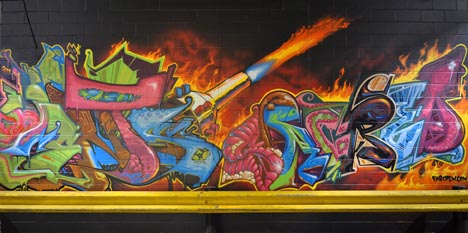 "Flames Are Burning" (2011) exemplifies the large-scale collaborative murals of FAB Crew, the aerosol art duo featured in the DeHaan Center Gallery's first exhibition of the 2012-13 season.
Local graffiti artists FAB Crew will bring their bold, street-inspired stylings to UIndy for an exhibition opening Aug. 31.
As a prelude to the show in UIndy's Christel DeHaan Fine Arts Center Gallery, artists Dan Thompson and Benjamin Long – aka the Fantastic Aerosol Brothers – will work from noon to 6 p.m. Friday on Smith Mall to create an 8-by-20-foot mural, which they will then disassemble and reassemble in the nearby gallery for the exhibition. 
FAB Crew: City Walls to Gallery Walls will run through Sept. 21 in the gallery, which is open 9 a.m. to 9 p.m. weekdays with free admission. An artist reception is scheduled 4 to 7 p.m. Aug. 31 in the gallery.
Thompson and Long have been working together since the late '90s, when they met in an art class at Ben Davis High School. For the past decade they have organized the annual SubSurface graffiti art festival in Indianapolis, drawing artists and fans from across the nation. In the run-up to this year's Super Bowl, they contributed a large-scale outdoor mural to the Arts Council of Indianapolis' "46 for XLVI" public art project.
FAB Crew also will participate in a Sept. 2 panel discussion in conjunction with the UIndy exhibit and the 10th anniversary edition of SubSurface, which takes place Aug. 31 through Sept. 2 at various Indianapolis locations. Joining them for the discussion, scheduled 6 to 8 p.m. Sept. 2 at the DeHaan Center, will be the pioneering Brooklyn graffiti artist Dave "Chino" Villorente.
DeHaan Gallery coordinator and Art & Design instructor Mark Ruschman met FAB Crew last year while curating an exhibition for the Indianapolis Museum of Contemporary Art, and he selected them to open the new season at UIndy.
"Through the gallery exhibition and panel discussion that follows, we hope to advance the conversation about the role of the graffiti artist in the contemporary art world and the evolution of this art form from the urban cityscape to mainstream commercial galleries and museum walls," said Ruschman, a longtime local art dealer recently named chief fine arts curator for the Indiana State Museum.
FAB Crew: City Walls to Gallery Walls
Aug. 31 to Sept. 21
Christel DeHaan Fine Arts Center Gallery
University of Indianapolis, 1400 E. Hanna Ave.
Gallery hours: 9 a.m. to 9 p.m. weekdays
Artist reception: 4-7 p.m. Aug. 31
Panel discussion: 6-8 p.m. Sept. 2
Admission: Free
Information: (317) 788-3251 or www.uindy.edu/arts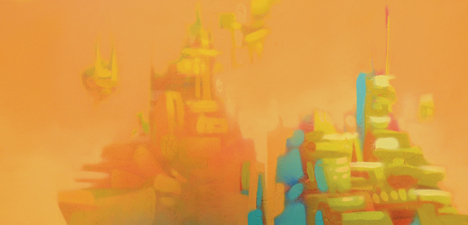 "Slums in the Sky" (2012), a spray-painted work by Dan Thompson, is part of FAB Crew: City Walls to Gallery Walls, on display through Sept. 21.