UIndy degrees lead to state's Hot 50 Jobs
The Indiana Department of Workforce Development has released a new Hoosier Hot 50 Jobs ranking, and once again, the future looks bright for graduates of UIndy's top programs.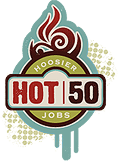 Physician, registered nurse and physical therapist top this year's list, corresponding nicely to UIndy's programs in pre-medicine, nursing and physical therapy. Other UIndy-related disciplines in the Top 20 alone include post-secondary teacher, social worker, marketing specialist, graphic designer, K-12 teacher and occupational therapist.
The DWD researchers weigh trends in salary, job availability and other factors in compiling the annual list, which projects the state's fastest-growing, high-wage occupations for the year 2020.
It's no coincidence that some UIndy folks are featured in the photos and video profiles that represent each occupation on the state's website. They include business Professor Jerry Flatto and physical therapy alumna Nichole Wilson, director of Rehab and Sports Medicine for Community Health Network.
The full list of the Top 50 jobs and profiles are available at www.HoosierHot50.com.