UIndy volleyball returns to Elite Eight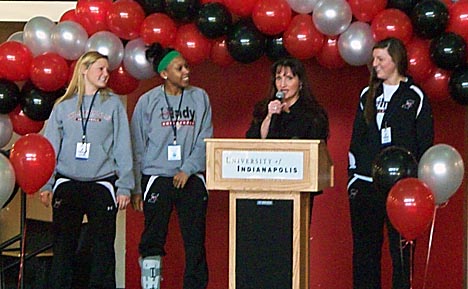 UIndy volleyball coach Jody Rogers (at podium) is joined by senior players (from left) Amy Oldenburg, Kourtney Crawford and Kristina Kerrigan during a campus pep session Thursday in Schwitzer Student Center.
The UIndy volleyball team is advancing to the Elite Eight for the second time in four years after hosting and winning the NCAA Division II Volleyball Championship Midwest Regional this weekend at home.
The Greyhounds (30-7) now travel to Pensacola, Fla., to face the East Region champion New Haven Chargers at 6 p.m. Thursday.
The game will be streamed online here.
More info on the team is here.