UIndy, senator announce new Lugar Academy
UIndy President Robert Manuel looks on as Sen. Richard Lugar fields questions Friday while announcing the university's new Richard G. Lugar Academy.
Plans include high-level internships, events in Indianapolis and D.C.
U.S. Sen. Richard Lugar will rejoin the faculty of the University of Indianapolis in January and help UIndy launch a high-level Washington, D.C., internship and study program for students from Indiana and across the nation.
Lugar joined UIndy President Robert Manuel today in announcing the formation of the Richard G. Lugar Academy, a sweeping expansion of the university's existing Lugar Center for Tomorrow's Leaders. The university will add a branch office and a full-time staff position in Washington to support its new internship program as well as conferences, symposia, policy studies and other activities of the academy.
At UIndy's main campus in Indianapolis, the nonpartisan Lugar Academy will continue to organize the annual Lugar Symposium for Tomorrow's Leaders, a daylong program created in 1977 for Indiana high school juniors to explore national and international issues. The Indianapolis office also will host events featuring prominent speakers and develop an institute to prepare first-time elected officials for public office, drawing on the resources of UIndy's Institute for Civic Leadership & Mayoral Archives.
Lugar, as a Distinguished Professor in UIndy's Department of History & Political Science, will continue as keynote speaker for his annual symposium and also will deliver three lectures each year for UIndy students, with additional lectures in the nation's capital. He will be instrumental in designing the D.C. internship program, which will focus on key national and global issues, with courses developed by UIndy faculty. Students in the semester-long program will spend two days a week in classes and seminars and three days in highly selective government-related internships.
"We couldn't be more pleased that Senator Lugar has selected UIndy as a home for his important post-Senate work," Manuel said. "It's difficult to imagine another individual with such a wealth of experience and such a willingness to share it with young people. With his help, we can provide an unparalleled opportunity for students pursuing careers in public service."
Now leaving the Senate as its most senior Republican and Indiana's longest-serving member of Congress, Lugar said he looks forward to continuing his career in public service and his commitment to inspiring future generations of leaders.
"I always have found UIndy students especially interested in preparing for leadership roles in campus and civic activities and potential political and public service opportunities," Lugar said. "I look forward to sharing experiences and helping to shape student careers that will bring satisfaction to each student and a tremendous boost to progress in Indiana and the nation."
First elected to the Senate in 1976, Lugar is best known for his work on agriculture, trade, energy security and especially foreign relations, including his sponsorship of the 1991 Nunn-Lugar Act to eliminate stockpiles of nuclear, chemical and biological weapons. A Rhodes Scholar and Navy veteran, he previously served two terms as mayor of Indianapolis, where he crafted a unified city-county government system credited with launching an era of economic and cultural growth in central Indiana.
The new Lugar Academy's executive director will be Lara Mann, who is special assistant to President Manuel and has led UIndy's Lugar Center since its formation in 2007. A graduate of the University of Dayton School of Law, she has a substantial background in higher education along with previous experience as case law editor for the LexisNexis database, management development specialist for the Ohio School Boards Association and field investigator for the Ohio Civil Rights Commission.
About the Lugar-UIndy connection
The University of Indianapolis and Senator Richard G. Lugar have enjoyed a long and rewarding relationship since 1970, when he accepted an invitation to join the UIndy Board of Trustees while serving as mayor of Indianapolis.
In 1976, at the conclusion of his tenure as mayor, Lugar taught political science at UIndy while running for the U.S. Senate. Students had a front-row seat to history as they followed the campaign, watched election returns with their professor, and then welcomed the victorious candidate back in class the following day.
For 36 years, the opportunity to connect with young people has continued during the annual Lugar Symposium for Tomorrow's Leaders at UIndy, when the Senator delivers the keynote address and meets with high school juniors from all corners of the state.
Lugar received an honorary degree from the university in 1970 and spoke at commencement in 1971. While rising to leadership positions in the Senate and becoming a statesman of international renown, the senator remained on the UIndy Board of Trustees for 32 years, earning the designation of Distinguished Trustee upon his retirement from the board in 2002.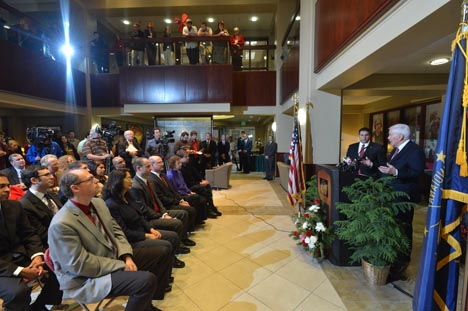 Students, faculty, staff, trustees, journalists and local dignitaries filled both floors of the Esch Hall atrium for Friday's announcement.