National, local leaders discuss future of arts
The Circle City's cultural community came out in force Monday as UIndy hosted a discussion by prominent local arts figures on the topic "Why Arts? Why Indy?"
Featured guest Michael Kaiser, president of the John F. Kennedy Center for the Performing Arts in Washington, D.C., urged local arts organizations to tackle their financial and audience concerns with a combination of artistic courage and outside-the-box community engagement. Joining him for the discussion were representatives of five local arts organizations, as well as others who posed questions from the audience.
View a photo gallery and read Indy Star arts critic Jay Harvey's account of the evening here.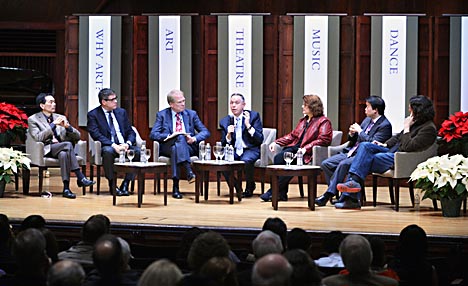 On stage for Monday's "Why Arts? Why Indy?" event were (from left) David Hochoy, Dance Kaleidoscope; Steven Stolen, Indiana Repertory Theatre; moderator Dennis Ryerson; Kaiser; Beth Perdue Outland, Indianapolis Symphony Orchestra; Glen Kwok, International Violin Competition of Indianapolis; and Jim Walker, Big Car.