Music students to host School 65 concert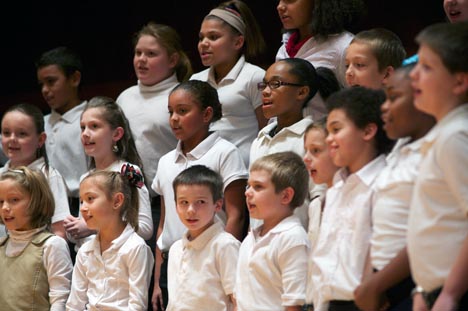 Students from IPS School 65 performed last year to a packed house in UIndy's Ruth Lilly Performance Hall. This year's holiday concert begins at 6 p.m. tonight.
Kids from a local elementary school will be well prepared and enjoying elegant surroundings tonight when they present their holiday program, thanks to UIndy students from the campus chapter of the National Association for Music Education.
For the second consecutive year, UIndy's acclaimed Ruth Lilly Performance Hall will host the annual performance by students from IPS' Raymond F. Brandes School 65, which lacks adequate space to stage the event. The concert hall's student employees also will contribute by recording the show and making the videos available to School 65 families and staffers. The music begins at 6 p.m. tonight.
The relationship grew out of the field experiences that UIndy music students, working under Director of Music Education Brenda Clark, conduct at the school in conjunction with their Education 203/204 course. This week, the college students guided the young performers through rehearsals Tuesday and Wednesday on campus, and they also will manage backstage logistics during the show.
Aside from being a nice thing to do, the experience is entirely relevant to the UIndy students' futures as music educators, Clark points out.