New sculpture graces Hanna Avenue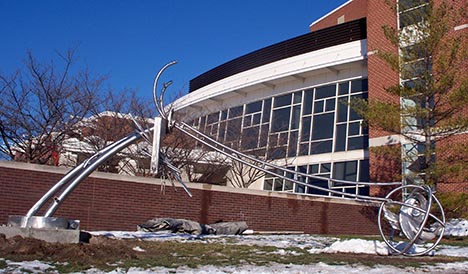 Students returning from the holiday break this weekend may notice a new feature on campus: a 20-foot sculpture installed today near the west entrance of the Christel DeHaan Fine Arts Center.
Fabricated from stainless steel and a bit of bronze, "On a Worldly Roll" by Kentucky-based artist Garry Bibbs was commissioned by the Department of Art & Design to become the latest addition to UIndy's Fifth Third Bank Campus Sculpture Walk. Bibbs' sculpture and print work also will be the subject of an exhibition opening Feb. 18 in the DeHaan Center Gallery.
This morning, Bibbs (at left in photo below) and staffers from the campus Physical Plant spent a couple hours in frigid temperatures to assemble and install the large artwork on two concrete pads along Hanna Avenue.