National magazine features UIndy swimmer
UIndy student-athlete Dalton Herendeen graces the cover of the new winter issue of NCAA Champion magazine.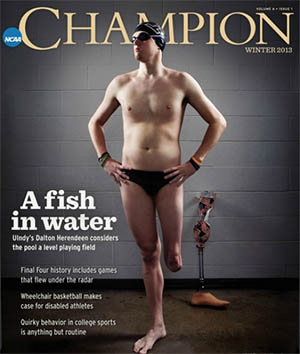 The sophomore exercise science major has been a letter-winning swimmer at UIndy and previously at Elkhart's Concord High School despite having his lower left leg amputated for medical reasons when he was an infant. He competed in September at the 2012 Paralympic Games in London. Though he didn't bring home a medal, the story says, he found the experience amazing and looks forward to the 2016 Paralympic Games in Rio de Janeiro.
"That why I swim every day, to get that medal," says Herendeen, who plans to become a physical therapist.
Greyhound swimming coach Gary Kinkead tells the magazine that Dalton has been an inspiration to the team.
"How can you say to yourself, 'I'm really tired; I've got to give up,' when he's not?" Kinkead says.
Read the NCAA Champion story here.
Read previous stories in UIndy's Portico magazine here.