IBO returns Friday for Telemann concert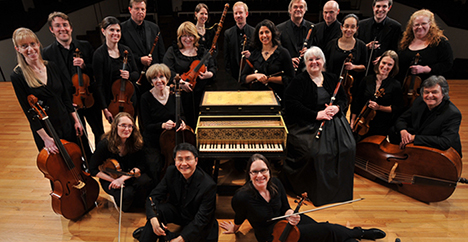 The campus concert schedule resumes Friday night with a performance by the Indianapolis Baroque Orchestra, now in its 14th season as ensemble-in-residence at UIndy's Christel DeHaan Fine Arts Center.
IBO performs 17th and 18th century music on historically accurate instruments. The Indianapolis Star has a feature story here about the group, which includes UIndy faculty member Thomas Gerber on harpsichord.
"The Colorful Telemann" is the title of Friday's program, which begins at 7:30 p.m. in the center's Ruth Lilly Performance Hall.
Along with the Overture in E minor by Georg Philipp Telemann — an 18th-century colleague of J. S. Bach and one of history's most prolific composers — the selections will include Jean-Baptiste Lully's Overture to "Armide," Jean-Philippe Rameau's Suite from the 1739 opera "Dardanus," and Jean-Marie Leclair's Concerto in C Major featuring IBO artistic director Barthold Kuijken on flute.
Admission is free for UIndy faculty, staff, and students with ID. Otherwise, tickets are $20 general admission; $15 for seniors; $10 for ages 20 to 40; and $5 for non-UIndy students. For tickets or additional information, contact IndyBaroque Music at (317) 808-BACH or visit www.indybaroquemusic.org.