Student fitness center open for business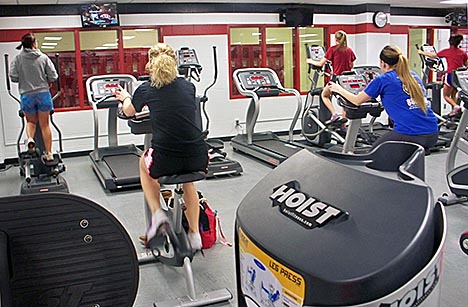 Many students took advantage of the new Greyhound Fitness Center as soon as it opened Wednesday. An open house is planned for next Thursday.
Students asked for it, and now they have it.
With the opening of a workout room specifically for varsity athletes in UIndy's Athletics & Recreation Center, the longtime community weight room in the lower level of Ruth Lilly Center for Health and Fitness has been updated and re-equipped to become the Greyhound Fitness Center, dedicated to serving the rest of the student population.
Some finishing touches are due before next week's grand opening event, but the space was open to patrons as of 8 a.m. Wednesday. So far, the equipment includes five treadmills, five elliptical machines, six exercise bikes, five spinning bikes and six weight machines, along with free-weight stations. Oh, and three flat-screen TVs.
But that's not the end of it. Revenue from student activity fees provides a budget to continue updating the room with new and different equipment, says Kory Vitangeli, dean of students and associate VP for student affairs.
"We can add anything the students would like to see," she says.
The open house is scheduled 3:30 to 5 p.m. next Thursday, Feb. 14, and will feature a raffle, healthy snacks and fitness tips from the Department of Kinesiology. Visitors are encouraged to stay for women's and men's basketball action at 5:30 and 7:45 p.m., respectively.
Staffed by a student attendant at all times, the new Greyhound Fitness Center will be open 8 a.m. to 9 p.m. Monday through Thursday, 8 a.m. to 8 p.m. on Fridays, 10 a.m. to 2 p.m. Saturdays and 2 to 9 p.m. Sundays.