Nursing launches online RN-to-BSN program
The University of Indianapolis is taking one of its most popular nursing degree programs online, making it accessible to working nurses throughout the state who want to advance their careers.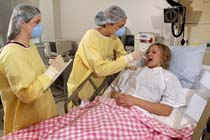 UIndy's School of Nursing first launched its RN-to-BSN program in the early 1990s to help registered nurses – licensed after two to three years of education – to complete their bachelor's degrees, the level of preparation that is becoming the healthcare industry standard. The program is currently offered in an accelerated hybrid format of weekly class meetings and online content that can be completed in 12 months, and also in on-site formats designed for employees of the IU Health, Hendricks Regional and Franciscan St. Francis health systems.
Beginning this fall, the same UIndy curriculum will be available in an online format that also can be completed in 12 months. Now accepting applications, the online program is open to licensed nurses currently working in Indiana. Financial aid is available, and students will have the flexibility to move from the hybrid to online format, or vice versa, as their circumstances change.
"It opens the door for people who don't have access to our campus or our partner locations," said Professor Connie Wilson, director of UIndy's RN-to-BSN program.
Evolving standards among healthcare providers and nursing professional associations are making the Bachelor of Science in Nursing degree more important than ever, Wilson said.
The industry is bracing for a wave of nursing retirements. Enrollment in two-year associate's degree programs is increasing, but those nurses typically will be expected to complete their bachelor's degrees within five years of entering the field. And major hospital systems are now adopting the nursing associations' recommendation that 80 percent of their nursing workforce should hold bachelor's or advanced degrees by 2020.
"The thrust is coming now from the employers too," Wilson said, noting that nurses who delay obtaining higher degrees may find their career options limited.
More information about the UIndy School of Nursing's online RN-to-BSN program is available at nursing.uindy.edu or by emailing nursing.rnbsn@uindy.edu or calling (800) 232-8634.