Sculptor to speak Monday at gallery opening
Kentucky-based metal sculptor and printmaker Garry R. Bibbs will speak Monday night at the opening reception for his exhibition in the Christel DeHaan Fine Arts Center Gallery.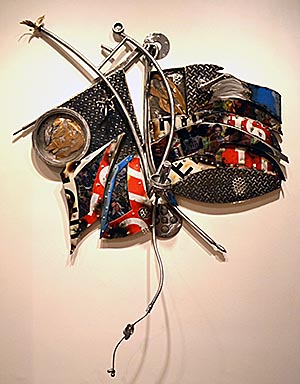 The show, titled Formal/Informal Conversations: Sculpture & Monoprints, addresses moral, social and political issues, with expressive imagery and colorful moving sculptures reflective of the Pop, Funk and Urban Expressionist movements. The work will remain on display through March 15.
Bibbs also is the creator of "On a Worldly Roll," the large stainless-steel sculpture recently installed outside the DeHaan Center's west entrance as a permanent addition to UIndy's Fifth Third Bank Campus Sculpture Walk.
The artist reception begins at 4 p.m. Monday in the gallery. Bibbs' guest lecture, "Searching for Artistic Truth," will take place from 6:30 to 7:30 p.m. in Room 115 of the DeHaan Center. Admission is free.