Professor Lugar teaches from experience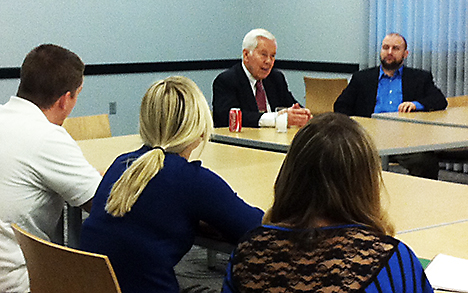 Suppose your International Relations class were studying nuclear nonproliferation. Who would be the ideal lecturer?
Oh, maybe someone like longtime Senate Foreign Relations Committee Chairman Richard Lugar, a Nobel Prize nominee for his work in reducing weapons stockpiles in the former Soviet Union.
Lugar, now a distinguished professor in UIndy's Department of History & Political Science, spoke today to Associate Professor Jyotika Saksena's IREL 348 class, giving 18 very attentive students a firsthand account of how he and former Senate colleague Sam Nunn grew concerned about loose nukes and joined forces to establish the Cooperative Threat Reduction Program.
Lugar recalled one visit to a Soviet missile silo, where the walls bore photos of various U.S. cities that apparently had been targeted for annihilation in the event of war.
"When we talked about 'mutual assured destruction,' that was an accurate description," he said. "We managed to live through it, and that is miraculous in itself."
Later during today's visit, the veteran statesman met with faculty members to discuss UIndy's new Lugar Academy and its Washington Semester internship-study program, which is now accepting applications for the fall semester. He also met with the staff of UIndy's Institute for Civic Leadership & Mayoral Archives, where the collection includes material from Lugar's tenure as mayor of Indianapolis.
UIndy, by the way, offers a bachelor's degree and Indiana's only master's degree in International Relations.