Key themes emerge from Vision 2030 input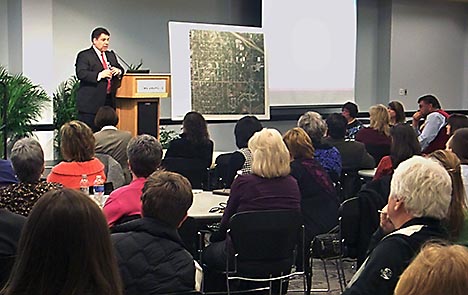 UIndy's Vision 2030 strategic planning process passed another milestone this week as President Robert Manuel updated the campus community in two town hall-style discussions.
Although input is still welcome — and can be submitted through an online questionnaire — Dr. Manuel discussed themes that have emerged in this year's visioning meetings and surveys, which involved more than 1,600 students, parents, alumni, faculty and staff. He called the process "a very fast but very deep exploration of what UIndy could be."
One key theme, addressing both academic needs and quality of life in the surrounding neighborhood, involves maximizing UIndy's potential as a community anchor and promoting mixed-use development that aligns with its academic strengths. For example, the university could partner with a healthcare provider to build a medical complex that provides services to the southside community, much-needed space for UIndy's Nursing and Health Sciences programs, and research and learning opportunities for faculty and students.
"You make the tide rise for all boats by growing the programs that have opportunities to grow," Manuel said.
Meanwhile, the campus task forces that have been examining key short-term issues are preparing their final reports, and the university's new Planning Commission will spend the next few months examining the results and identifying budget and fundraising priorities for the next few years.
Interested parties can follow the process at www.uindy.edu/vision.