Singers to present musical history of Taiwan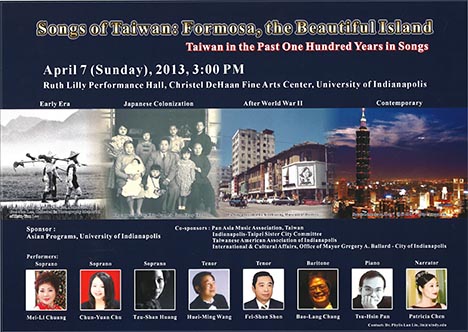 A troupe of top Taiwanese musicians will share their homeland's history through song in a free concert April 7 at UIndy, thanks to our Asian Programs office.
Songs of Taiwan: Formosa, the Beautiful Island begins at 3 p.m. in the Christel DeHaan Fine Arts Center's Ruth Lilly Performance Hall. The event is sponsored by Asian Programs in cooperation with the Pan Asia Music Society of Taiwan, the Indianapolis-Taipei Sister City Committee, the Taiwanese American Society of Indianapolis and the Indianapolis Mayor's Office of International & Cultural Affairs.
The program traces Taiwan's history from early times, through the Japanese occupation of the early 20th century, to the present day. The performers will include sopranos Mei-Li Chuang, Chun-Yuan Chu and Tzu-Shan Huang; tenors Huei-Ming Wang and Fei-Shon Shon; baritone Bao-Lang Chang; and pianist Tsu-Hsin Pan. Narration will be provided by Patricia Chen.
L/P credit is available for UIndy students. For information, contact Asian Programs Director Phylis Lan Lin at (317) 788-3288 or lin@uindy.edu.