State legislator honors UIndy student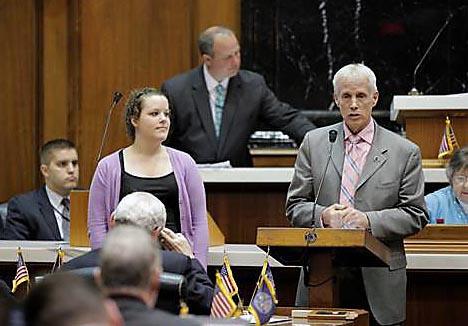 Music education major Mindy Owens, left, is recognized by State Rep. Bob Behning today at the Statehouse.
UIndy senior Mindy Owens' battle against cancer has been an inspiration to students, faculty and staff here on campus. Today, it also put the music education major in the spotlight at the Indiana Statehouse.
Rep. Bob Behning (R-Indianapolis) invited Owens to today's General Assembly session for his presentation of House Resolution 90, recognizing her perseverance in continuing her studies. After missing some school time as a result of her illness, Owens took on extra classes and will walk with her classmates in the May 4 Undergraduate Commencement.
"Mindy's perseverance and faith during her battle is truly inspirational, and I am honored to recognize her for the incredible example she has made for students and all young people," Rep. Behning said in a statement released by his office.
Owens, originally from Marion, will still have to complete her student teaching this fall before officially receiving her diploma and starting her career as a music teacher, but she relishes the opportunity to participate in the ceremony.
"That's been amazing in itself, getting to graduate on time," she said.
UIndy's The Reflector published a story last year about Owens and her impact on her fellow students. Read it here.