Students recognized for leadership, service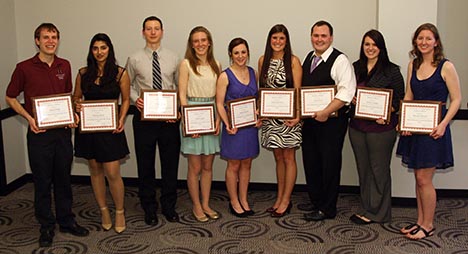 Recipients of this year's Outstanding Senior Leadership Award included (from left) Mark Wolfe, Ananya Khan, Bryan Gezon, Faith Cougill, Sasha Rairdon, Samantha Frye, Joshua Ford, Christi Larimer and Hannah Purcell.
UIndy's most active and community-minded students were honored last week at the Annual Recognition Banquet, which shines a spotlight on service and leadership in the student body.
Among the top honors is the Outstanding Senior Leadership Award, which recognizes sustained involvement in campus life over the course of a student's entire undergraduate career. This year's recipients and their majors are:
Ryan Barnett of Mooresville, Exercise Science and Pre-Med
Faith Cougill of Indianapolis, Experience Design
Joshua Ford of Scipio, Sociology
Samantha Frye of Mooresville, Psychology
Bryan Gezon of Zeeland, Mich., Exercise Science and Pre-Physical Therapy
Krystin Johnson of Indianapolis, Business Administration
Ananya Khan of Terre Haute, International Business
Christi Larimer of Monticello, Public Relations
Jessica Leaman of Colfax, Sociology
Jordan Parrett of Connersville, Chemistry and Biology
Hannah Purcell of New Palestine, Psychology and Pre-Occupational Therapy
Saisha Rairdon of New Albany, Social Work
Mark Wolfe of Fairland, Philosophy and Pre-Theology
Multiple award winners included Barnett and Gezon, who each received the prestigious Esch Scholar designation for overall academic and extracurricular achievement; Ford, who also was named Outstanding Student Leader of the Year and shared Undergraduate Outstanding Student Volunteer honors with Megan Juchcinski; and Larimer, who was named Student Employee of the Year.