Concert to feature acclaimed Haydn mass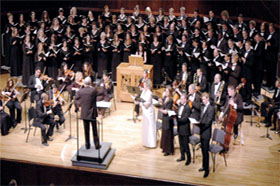 UIndy's Department of Music will close the 2012-2013 season on Sunday with a spring choral and orchestral concert featuring Joseph Haydn's acclaimed "Nelson Mass."
Free and open to the public, the event begins at 4 p.m. in the DeHaan Center's Ruth Lilly Performance Hall. The performers will include the Festival Orchestra, Concert Choir and Choral Union community choir — in which alumni comprise more than half of the members — as well as vocalists Kathleen Hacker, soprano; Mitzi Westra, mezzo-soprano; Daniel Blosser, tenor; and Mark Gilgallon, baritone. Professor Paul Krasnovsky, director of choral activities, will conduct.
Formally titled Missa in Angustiis (Mass in time of fear), the Nelson Mass is a "very powerful, dramatic work" considered to be Haydn's greatest single composition, Krasnovsky says. It premiered in 1798, coinciding with British Admiral Horatio Nelson's victory over Napoleon's fleet, and was forever associated with that historic event.
The program also includes J.S. Bach's Concerto for Two Keyboards in C major, BWV 1061, with Professor Richard Ratliff and senior Matthew Bridgham on piano.
More information is available at (317) 788-3255 or www.uindy.edu/arts.