OT, PT, actuary among top jobs for 2013
Good news for graduates of UIndy's College of Health Sciences: Occupational therapist and physical therapist rank among the Top 10 best jobs to hold in 2013, according to a new study reported by the Wall Street Journal.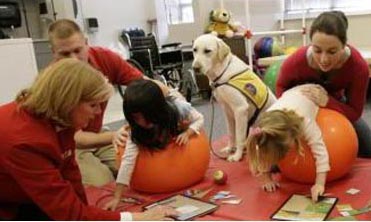 The outlook is even brighter for students in Actuarial Science — actuaries top the list.
Employment website CareerCast.com has released its annual ranking of 200 jobs, from best to worst, based on five criteria: physical demands, work environment, income, stress and hiring outlook. The results are based primarily on data from the Bureau of Labor Statistics and other government agencies.
UIndy's College of Health Sciences graduates more PTs and OTs each year than any other institution in Indiana. The degree offerings include Doctor of Physical Therapy, Master of Occupational Therapy, postprofessional master's and doctoral degrees in PT and OT, and a Physical Therapist Assistant associate's degree.
Read the WSJ blog post here, and see the full job ranking here.