Professor's book fills gap in PT education
Stacie Fruth's "purple book" has been educating students in UIndy's Krannert School of Physical Therapy for several years, but now it's available to the world.
The initial version was a humble classroom packet of just 38 pages explaining a few basic physical therapy tests and measures. Dr. Fruth began assembling the guide shortly after joining the faculty in 2005, when she began teaching the six-hour Clinical Skills I course to first-semester students in the Doctor of Physical Therapy program. Gradually it grew into a spiral-bound booklet with card-stock covers in her favorite color, purple.
"I teach students when they're just getting their feet wet," the associate professor says. "There was no book out there that covered the material I taught."
There is now. Fruth's 324-page Fundamentals of the Physical Therapy Examination: Patient Interview and Tests & Measures was published earlier this year by Jones & Bartlett Learning.
The book focuses on the ground-level realities practitioners face when presented with a new patient: How to listen, observe, build rapport and assess a person's needs step by step, regardless of age, sex, background or which body systems are involved. How does one question lead to the next? What physical tests are in the toolbox, and when do you use each one?
"It runs the gamut of every basic test and measure that we do," Fruth says. "We want to teach you how to conduct a fundamental examination on anyone who walks in the door."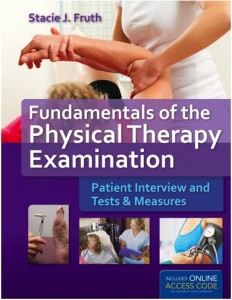 During her work on the book – which included a wintry month holed up in a Michigan cabin while on sabbatical – the publisher grew increasingly enthusiastic about the project, upgrading it to full color with professional photography, video and an accompanying website. Rather than using professional models, however, Fruth insisted on a more realistic approach, putting actual patients, students and her faculty colleagues in front of the cameras.
More than three days of shooting on campus produced 20 videos, which are available on an accompanying website. They include instructions for various tests and measures, examples of clients with commonly seen symptoms, and two full-length patient examinations, one musculoskeletal and one neurological.  The visual aids are invaluable to students, especially when learning how to recognize various disorders.
"Unless the students can see it, they often don't get it," says Fruth, who also manages physical therapy services at UIndy's Sutphin Center for Clinical Care in Fountain Square, where students serve uninsured patients.
The icing on the cake is that Fruth persuaded the publisher to make purple the dominant color in the book's design.
"That was a deal breaker," she says. "They thought I was kidding."