In the news: UIndy's Texas forensics project
A UIndy team's humanitarian scientific work in Texas this spring inspired the front-page lead story in Saturday's Indianapolis Star, which is now spreading across the country via the Associated Press and Gannett wire services.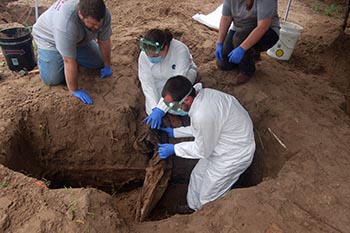 In May, Assistant Professor Krista Latham and graduate students Jessica Campbell, Erica Christensen, Justin Maiers and Ryan Strand — all trained in forensic archeology and anthropology — spent a week in southern Texas exhuming the bodies of undocumented migrants who died of exposure after crossing the border. Their work is part of an international effort to identify and repatriate such remains, which are turning up in increasing numbers in border states. Read our initial post here.
See Indianapolis Star story and photo gallery