Indy Jazz Fest lineup announced on WICR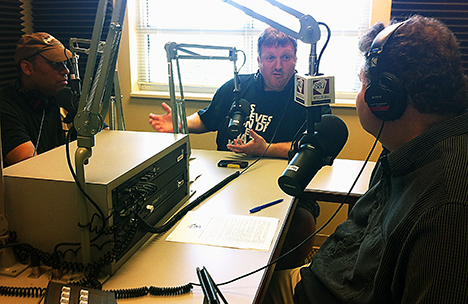 Indy Jazz Fest artistic director Rob Dixon, left, and festival director David Allee discuss this year's event with WICR programming director Russ Maloney.
What better way to announce the  lineup for the upcoming Indy Jazz Fest than live on the air at the city's only jazz radio station?
Festival director David Allee, owner of the Jazz Kitchen nightclub, and artistic director Rob Dixon, one of the city's top saxophonists, stopped by the studios of UIndy's WICR-FM/HD on Thursday to share the news with programming director Russ Maloney and "Smooth Jazz in the Morning" host Doug Housemeyer, the station's director of underwriting.
Pianists Ramsey Lewis and Allen Toussaint are among the top names for the 15th annual music festival, which is continuing its evolution from a single outdoor bash to an extended series of indoor concerts in a range of settings, scheduled Sept. 12 to 21. See the full lineup here.
Once again, WICR will host one of those events on campus, a Sept. 18 tribute to Indiana composers such as Cole Porter and Hoagy Carmichael by the all-star Indy Jazz Fest Band. The music will begin at 7 p.m. in the Christel DeHaan Fine Arts Center's Ruth Lilly Performance Hall, and admission is free.