National radio show features President Manuel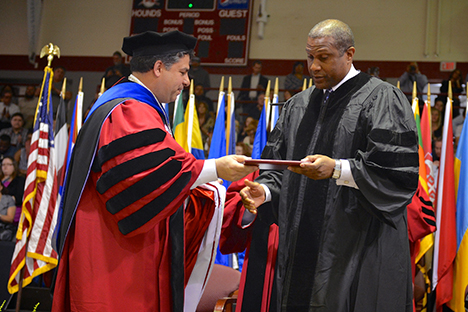 UIndy President Robert Manuel presents an honorary degree to nationally known broadcaster Tavis Smiley during May's Undergraduate Commencement ceremony.
UIndy President Robert Manuel was a guest on the latest episode of Public Radio International's The Tavis Smiley Show.
Smiley, who spoke at UIndy's Undergraduate Commencement ceremony in May, invited Manuel and Xavier University President Norman Francis to join him for a 10-minute segment on college loan rates and the financial concerns that face today's students.
"If you look at the investment over time, how it pays back, there really is no other better way to change life circumstances for people," Dr. Manuel says on the show. "At the University of Indianapolis, we serve 40 percent first-generation college students and get them through with an indebtedness that's below the national average, and they're turning out with jobs and … life chances that they wouldn't have had otherwise."
Listen to the conversation here.