Student-run agency tackles off-campus event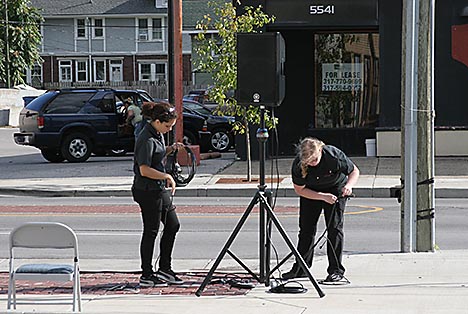 UIndy students Jazmine Floyd (left) and Cassie Cutshaw of Greyhound Production Services set up a PA system Saturday along East Washington Street.
If you attended "A Great Day in Irvington" on Saturday, you enjoyed the work of Greyhound Production Services, whether you knew it or not.
GPS is the UIndy Department of Theatre's student-run event production company, which provides hands-on experience and service opportunities for students interested in theater design and production. Under the guidance of staffer Fritz Bennett, the department's production manager and technical director, the group has been helping to stage concerts and other events on campus for well over a year now.
The Saturday event on Indianapolis' east side, which included an afternoon streetscape dedication and an evening fundraising reception for the Irvington Development Organization, was GPS' first significant undertaking off campus, providing the sound system and other technical support.
GPS is one of several student-run agencies that are already active or taking shape at UIndy, providing services internally and to nonprofit groups in the broader community. They include the national award-winning Top Dog Communication PR agency, the Department of Art & Design's One14 Design Studio, and the Experience Design program's Imagination Emporium.