Memorial service Sunday for recent graduate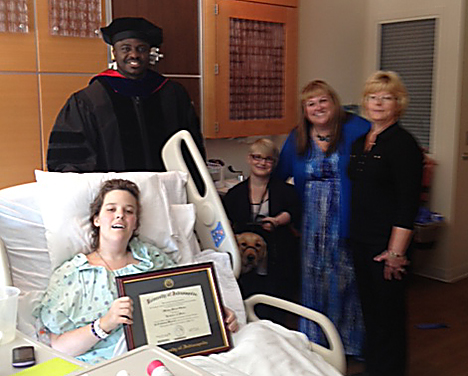 In her final days,   Mindy Owens was presented a diploma by education professor Terrence Harewood (left), Honors College director Amy Allen Sekhar, Dean             of Students Kory Vitangeli and         music professor Brenda Clark.
Mindy Owens lost her battle with cancer last month, but not before she received her UIndy diploma.
The music education major from Marion was diagnosed while in high school, then learned as a college student that her odds were not good. Her courage and positive attitude, however, were an inspiration to many on campus, especially in the Department of Music, and well beyond. In April, she was invited to the Indiana Statehouse to meet legislators and Gov. Mike Pence as the House passed a resolution in her honor.
UIndy administrators made arrangements for Mindy to walk in the May commencement ceremony, though she still needed to complete her student teaching this fall before satisfying the standard requirements. As the end drew near, faculty and staff visited Mindy and her family at IU Simon Cancer Center on Aug. 28 to present a diploma. She passed the next day.
"Her family was all in attendance, and we hummed 'Pomp and Circumstance,'" recalled Kory Vitangeli, Dean of Students and Vice President for Student and Campus Affairs. "I feel so very fortunate to have had this experience and to have known this wonderful young woman."
A "Celebration of Life" service will begin at 4 p.m. Sunday in the Christel DeHaan Fine Arts Center's Ruth Lilly Performance Hall, with eulogies, readings, prayer and special music from students and other friends, including the Crimson Express vocal ensemble.
The latest issue of The Reflector student newspaper has a nice story about Mindy and the lives she touched. Read it here.
*        *        *
UIndy is establishing a Mindy Marie Owens Memorial Music Scholarship in her honor. Contributions can be made by check to the University of Indianapolis, noting this scholarship in the memo line, and sent to the Office of Development, 1400 E. Hanna Ave., Indianapolis, IN 46227.