800 UIndy volunteers join in 'Super Saturday'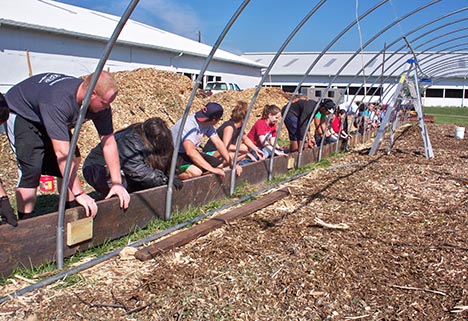 More than 70 of the 800 UIndy student volunteers spent their Super Saturday working for Global Peace Initiative's farming and education center at the Marion County Fairgrounds, painting, moving mulch and helping to construct this hoop house for winter growing.
Doubling the manpower of previous years, about 800 UIndy students, staff and faculty volunteers donated their time and effort at 30 sites around the city during this weekend's Super Saturday of Service.
The annual event is organized by student government to introduce new students to UIndy's culture of "Education for Service." This fall, a broader recruitment effort brought the majority of the freshman class on board. The volunteers worked Saturday along the Indianapolis Cultural Trail, at the Indiana AIDS Walk, and at the sites of various nonprofit organizations, community centers, schools and churches.
UIndy's Super Saturday of Service also was part of the new Indy Do Day initiative. More information on that is available here.