Homecoming festivities rock UIndy campus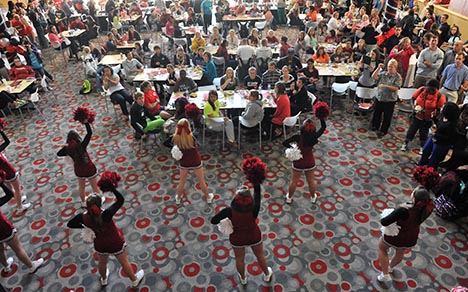 The UIndy Cheer squad performs Monday during the Homecoming Pep Rally in Schwitzer Student Center, one of a series of special events this week.
Homecoming Week 2013 is well underway on campus after a UIndy trip to the Indianapolis Zoo on Sunday and a free lunch and pep rally Monday in Schwitzer Student Center.
Several days of activity culminate Saturday, when the nationally ranked Greyhound football squad takes on Missouri S&T at 6 p.m. in Key Stadium. Admission is free to students, faculty and staff with ID, and the Homecoming King and Queen will be announced at halftime.
The pregame festivities will include Tailgate Town from 3 to 6 p.m. in Nicoson Hall parking lot, with food trucks, live entertainment and interactive fun. The annual Golf Cart Parade will begin at 5 p.m. in the Esch Hall circle and proceed along Hanna Avenue to Tailgate Town.
Other action this week includes the Provost's Lecture with Dr. Krista Latham at 4:30 p.m. today, mascot sculpture Ace's birthday party at 11:30 a.m. Wednesday, the Eric Hutchinson concert at 9 p.m. Wednesday, and more athletic events, alumni gatherings and general celebrations.
See the full schedule at uindy.edu/homecoming and register for alumni events here.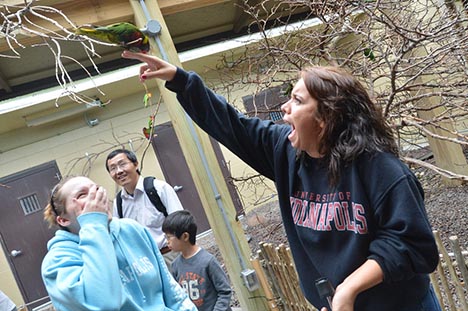 UIndy students make new friends Sunday at the Indianapolis Zoo.