Student PR firm named best in nation
For the second time in three years – perhaps because the rules don't allow consecutive wins – UIndy's Top Dog Communication has been named the top student-run public relations agency in the nation.
The Public Relations Student Society of America presented its Dr. F.H. Teahan Award for Outstanding Chapter Firm to the UIndy group Monday night at its 2013 National Conference in Philadelphia. Top Dog, advised by Distinguished Professor Rebecca Deemer, claimed the same award in 2011, based on results achieved for clients and the management and operation of the firm in providing experience for its staff.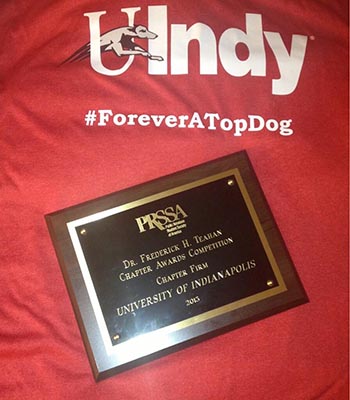 "One award. Belongs to many," Deemer tweeted from the scene while sharing the accompanying photo.
The latest award is based on work performed during the 2012-2013 academic year, when Top Dog students created – and in most cases implemented and evaluated – PR campaigns for 10 local organizations, including Girl Scouts of Central Indiana, Volunteers of America-Indiana Chapter, 100 Black Men of Indianapolis, Indiana Association of Home and Hospice Care and the Indiana Conference of the United Methodist Church. The students prepared news releases, pitch letters, event plans, informational presentations and other print and electronic materials to help clients meets goals that included raising awareness, recruiting volunteers and promoting events.
The firm's executive team last year was led by firm director Christi (Larimer) Eden, a 2013 graduate. The account managers were Katy Watson, now an MBA student at UIndy, and current undergraduates Coran Coker, Hannah Klare, Jenn Meadows and Jenna Whalen.
Top Dog's 2013-2014 executive team includes Whalen as director and managers Craig Banister, Rachel Taller, Kristen Hay and Allison Schrock.
Nationwide, more than 100 student-run firms are operated by PRSSA chapters, but Top Dog is one of only 34 designated as "nationally affiliated" for their effective structure and high level of professionalism.
Learn more about Top Dog Communication here.