Student stage productions open this week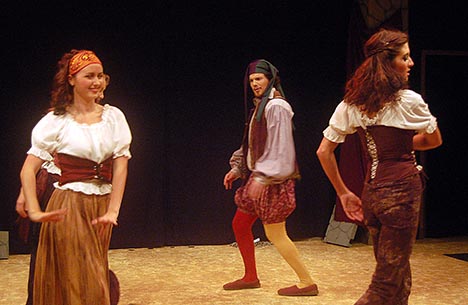 Theatre majors (from left) Ellie Delap, Eric Brockett and Morgan Jackson appear in The Cask of Amontillado, adapted for the stage by UIndy junior India Van Camp.
The Department of Theatre will open its annual Student-Directed Productions this week, giving some of UIndy's top young talents a chance to run their own shows, putting their classroom education into practice on the stage.
This year's directors and their productions, which generally feature all-student casts and staffs, are:
Junior Elise Campagna, None of the Above, a comedy by Jenny Lyn Bader
Junior Daryl Hollonquest, Intermission, a comedy by Daniel Meltzer
Junior India Van Camp, with her own adaptation of Edgar Allan Poe's The Cask of Amontillado
Senior Ross Percell, Moonlight and Magnolias, a comedy by Ron Hutchinson
The action will take place in the intimate Studio Theatre, lower level of Esch Hall. After a free preview at 8 p.m. Thursday, performances are set for 8 p.m. Friday through Sunday and Dec. 5-7. Admission for the general public is $12, or $10 for seniors, groups and non-UIndy students with ID. Admission is free for UIndy students, faculty and staff.
Find more information on arts events at www.uindy.edu/arts.