On TV: UIndy's Mayoral (and Colts) Archives
WXIN-Fox 59 aired a feature story several times over the Thanksgiving weekend about UIndy's Mayoral Archives.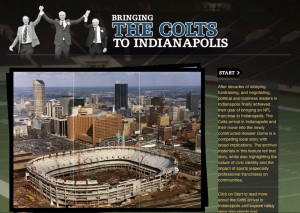 Dr. Edward Frantz, director of the archives and associate professor of history, spoke with reporter Russ McQuaid about the special online feature "Bringing the Colts to Indianapolis." Launched for public viewing in October, the collection includes rarely seen letters, photos and other items detailing the efforts of then-Mayor William Hudnut and others in the '70s and '80s to build the city's sports-related image and secure an NFL franchise for the city. McQuaid is preparing stories about the upcoming 30th anniversary of the Colts' move in 1984.
"It looks like now building the Hoosier Dome and bringing the Colts here was a no-brainer," Frantz said, "but when you go back and look … obviously nothing is a no-brainer at the time. It takes courage. It takes leadership and somebody willing to gamble."
Watch or read the full news report here. And check out the behind-the-scenes Colts history for yourself here.