Seminar aimed at displaced health workers
UPDATE: This event has been canceled.
In the wake of major layoffs by local hospital systems, the University of Indianapolis will host a free seminar to help displaced nurses and healthcare professionals gain traction in the job market.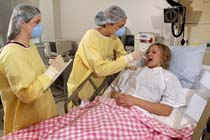 "Reinventing Yourself: A Personal Transformation for Healthcare Workers" is scheduled from 8:30 to 11:30 a.m. Jan. 11 in UIndy Hall A of the university's Schwitzer Student Center, 1400 E. Hanna Ave. The event, which includes a continental breakfast, is sponsored by UIndy's School for Adult Learning, School of Nursing and College of Health Sciences.
Career consultant John Vice, longtime human resources manager for Eli Lilly & Co., will present a program showing job seekers how to assess their priorities and leverage their strengths to identify new career paths. The seminar also will feature information on educational opportunities at UIndy, including certificate programs and accelerated bachelor's and master's degree programs.
Further detail on career planning, personality inventories and self-marketing will be available at additional half-day information sessions on Jan. 18 and 25.
Registration for the Jan. 11 seminar is required at bit.ly/jan112014. More information is available by contacting Laurie Daeger at (317) 788-3442 or ldaeger@uindy.edu.